Value Engineering And GMP Turnkey Services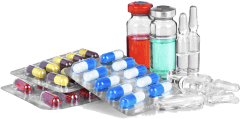 SPM provides high added-value solutions in consultancy, engineering and construction of pharmaceutical plants and complete laboratories for the manufacture of medicines, including critical equipment. This encompasses validation, regulatory compliance and implementation services for logistics management and maintenance systems.
You'll Benefit From:
Customized approach - solutions to fit your situation
Joint problem/opportunity definition
Collaborative problem solving
Fact-based decisions and actionable recommendations
Ownership of final decisions and action plans
How We Do It?
With 20 years of pharmaceutical field studies, SPM has substantial experience in executing pharma projects from conceptualization to validation while focusing on an economical solution. SPM takes on overall management of customized, integrated, innovative, and effective turnkey projects, including consultancy, development, and end-to-end monitoring of projects.
We Carry Out A Turnkey Project Through:
Conceptual Design and Basic Engineering
Detailed Engineering
Equipment Manufacturing
Layout
Shipment and Installation
Project Management
Site Acceptance Test & Commissioning
Standard & Validation Documentation (IQ/OQ/PQ Protocols)
Training
Plant Start up
Regulatory Support